Connie Chang
Chief Operating Officer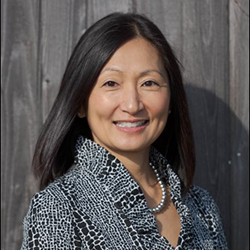 Connie brings a diverse 25-year career in life science and business to ONL, having worked in large and small pharma, early-stage biomedical technology commercialization and management consulting. Previously, she served as Vice President of Corporate Affairs at Millendo Therapeutics where she was responsible for building critical infrastructure as the company became publicly traded, including investor and public relations, corporate communications, and facilities/operations. Connie was managing director of Fast Forward Medical Innovation (FFMI), the commercialization and entrepreneurship arm of the University of Michigan Medical School, supporting early-stage technology development. At Sepracor (now Sunovion) Connie was Senior Director and brand team leader for the sedative hypnotic and respiratory franchises, developing integrated marketing plans and sales force strategies, including the launch of product line extensions. Earlier in her career, Connie worked at Pfizer on commercial teams in allergy/respiratory, cardiovascular and CNS.
Connie received her Bachelor of Arts degree in psychobiology from Harvard University, graduating magna cum laude and Phi Beta Kappa, and an MBA from Harvard Business School.