Stephanie Wietholter, MS, COA, OSC
Project Manager, Clinical Operations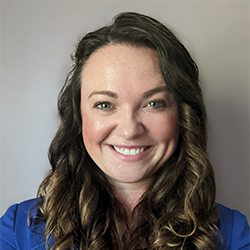 Stephanie Wietholter is an experienced clinical research coordinator with nearly ten years of combined experience in ophthalmic clinical trials and working as a certified ophthalmic assistant in a retina clinic.
Stephanie began working at the University of Michigan Kellogg Eye Center in 2013. For five years, she worked as a certified ophthalmic assistant where she performed many specialized clinical tests for retinal and inherited retinal dystrophy patients, including a year working as an Electrophysiologist Assistant and performing diagnostic ERGs on clinic patients. Her experience in the Retinal Dystrophy Department led to a position as a Clinical Research Coordinator in the Kellogg Clinical Research Center. Her time as a research coordinator included managing numerous phase 1, 2, and 3 clinical trials and research studies ranging in a variety of ophthalmic conditions.
Stephanie's background includes a B.S. in Brain Behavior and Cognitive Science from the University of Michigan and an M.S. in Pharmacology and Toxicology from the Michigan State University College of Osteopathic Medicine.