David Zacks, MD, PhD
Co-Founder and Chief Scientific Officer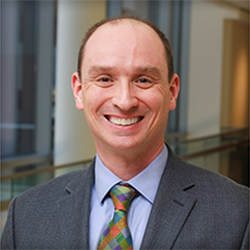 Dr. Zacks is a professor of ophthalmology and a clinician-scientist at the University of Michigan, Kellogg Eye Center. For over the past 15 years his research has focused on the molecular regulatory mechanisms controlling photoreceptor death or survival in retinal disease. Dr. Zacks is a pioneer and recognized thought leader in the field of retinal neuroprotection and photoreceptor cells physiology. He has demonstrated that the Fas pathway is largely responsible for cell death and has discovered unique molecules that block the Fas receptor and preserve photoreceptors.
A recognized expert in the study of retinal detachment, Dr. Zacks has received numerous honors for his work, including the Macula Society's W. Richard Green Lecture and Award in 2011. He earned his M.D. and Ph.D. degrees at Albert Einstein College of Medicine and completed his residency in ophthalmology and fellowship in vitreoretinal surgery at Massachusetts Eye and Ear Infirmary of Harvard Medical School.